Discover more from Metric by Michael Schofield
The user experience is a metric. This is a newsletter interested in high-level practical design thinking by Michael Schofield, whose podcast DScout rated as one of the best 👐.
One of the first things I did was introduce the service blueprint
It's been awhile since I wrote, but in that time I eased-in to a new role as the User Experience Development Lead at WhereBy.Us. I haven't written specifically about the role, or how I helped define the job description, and I will, but suffice to say for the first time I find myself in a really sweet position to both define and shape the future of the user experience process at a company that is already user-centric and data-driven, as well as strongly influence how the technology is actually developed.
I think I am going to have a lot to say, even if I can't share specifics, because my short time so far has been so rich, and there aren't really any indications that that's going to change.
While this role was newly created, I didn't come into a company that needed to be convinced that good user experience is good business, nor that metrics and research were better wayfinders than vision, gut-feeling, or anecdotes. Being a startup, however, with so many balls in the air, the wake from starts, stops, and pivots left a lot of debris, which meant that pathways were sometimes obscured.
Folks have a tight grasp on things from the end of their octopus arm, but it was hard to know what the other arms were engaged-in other than wiggling independently.
The reality of course was these weren't independent at all, but serving a specific need in a singular service provision: connecting curious locals to their community.
One of the ways we connect these locals is through a daily newsletter -- The New Tropic in Miami, The Evergrey in Seattle, Bridgeliner in Portland, Pulp Town in Orlando -- that in addition to a number of small apps that serve the content through other third parties, require multiple teams to produce content, video, connect with community stakeholders, and so on. Although UX is under the purview of the tech team, narrowing our attention to just the underlying technology misses most of the picture.
When improving the end-user experience is often about reducing the number of touchpoints in the production of a service, we can get more bang for our buck than just optimize the look-and-feel of a thing and focus on -- say -- making the lives of content creators easier.
So, within the first month or so, the tech team grabbed a couple hours in a conference room and I introduced the what, why, and how of a service blueprint, after which we dove in.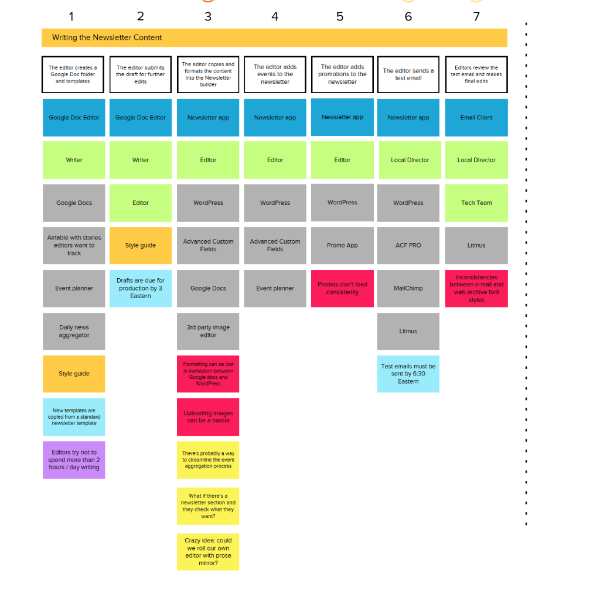 On one hand, we found this was a useful empathetic exercise that, for instance, taught us that by the time our writers began working with our tools, they were carrying with them the pressure of deadline, any gaffes, hiccups, and other baggage from the difficult work of journalism, so usability problems encountered in our tools were only compounding problems.
On the other, we started thinking about more opportunities to leave the silo -- which was already pretty thin, but you know -- and see whether we could be of use earlier in the service provision process.
This blueprint, this map, at the end was an easily digestible deliverable. As something visual we could just show it off, and what happened was that I met with several folks outside of the tech team to help flesh it out further.

As a conversational tool it's been useful for making the case that improving the end-user experience begins with improving our company's experience internally. For me, strategically, this sets the tone that the work of doing user experience design is a holistic one that transcends department and, just as much as not, is focused inward.

---

This writeup -- One of the first things I did was introduce the service blueprint -- is only written for subscribers to this newsletter and folks who are able to support it and Metric: The User Experience Design Podcast on Patreon for $1. I am not going to re-post it on Medium (!), it's private. Just for you.

Want to do a nice thing? Forward this email to someone and maybe say something nice about it on twitter :).

Have any questions about doing use experience work? Reply to this email and let me know! I'll write about it and -- with your permission -- give you the credit for the idea <3.

Until next time,

Michael Schofield
patreon.com/michaelschofield